John Deere Electronics alongside Valmont Industries, Inc. introduces smart irrigation control panels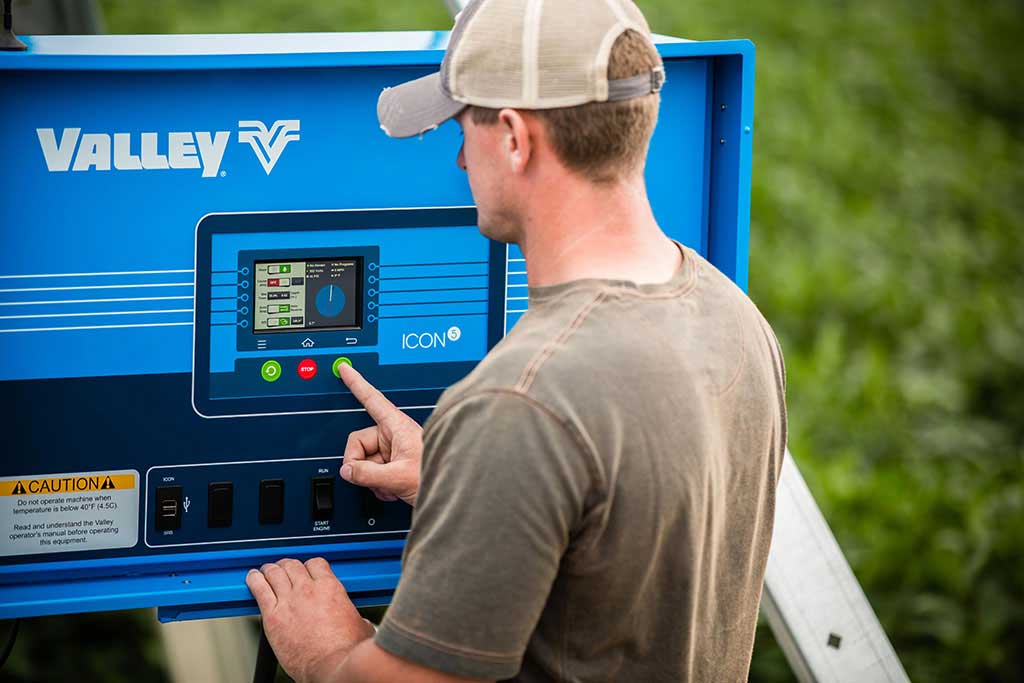 Fargo, ND – For over 20 years, John Deere Electronics (JDE) has provided Valmont Industries, Inc. with systems solutions by designing and manufacturing electronic control panels. Valmont recently announced the release of the Valley® ICON® series of smart panels. These smart panels provide customers with features that maximize their time and provide improved control of their center pivot irrigation machines.
In response to Valmont's newest panel requirements, JDE in conjunction with Valmont designed and manufactured the Smart Relay Board used with all four Valley ICON™ smart panels. The ICON series offers the customer a modular design giving Valley customers the ability to easily update their existing computerized panels with an ICON smart panel. Display options include a five inch touch screen, 10 inch touch screen, and off-site control with a smart phone application. The upgrades also allow for faster, more secure software updates, which provide a simpler user interface to the Valley customer.
During the product development process, JDE selected components and technologies meeting Valmont's requirements while maximizing the product life cycle. Furthermore, the opportunity presented itself to build off of JDE's current display technology while still achieving Valmont's objective. This proven technology helped reduce additional design costs while providing Valmont with a system that matches its quality standards as well as those of John Deere. As another means of quality and efficiency, JDE automated software testing to reduce verification time from weeks down to days. This results in reduced project risk and improved product quality.
In collaboration with John Deere Electronics, Valmont provides a diverse family of control systems ranging from basic to advanced with opportunity for future technology enhancements. JDE continues to work closely with Valmont and other original equipment manufacturers to provide solutions that enhance technology in the global marketplace.
About John Deere Electronics
John Deere Electronics (JDE) strives to further John Deere's global business by developing rugged and reliable electronic components and systems that thrive in the most extreme environments. To enhance innovation, expertise and competitiveness, JDE provides custom and off-the-shelf electronics and power electronics for original equipment manufacturers worldwide.
About Valley Irrigation
Valley Irrigation founded the center pivot irrigation industry in 1954, and our brand is the worldwide leader in sales, service, quality and innovation. With historical sales of more than 200,000 center pivots and linears, Valmont-built equipment annually irrigates approximately 25 million acres (10 million hectares) around the world. We remain dedicated to providing innovative, precision irrigation solutions now and into the future. For more information, please visit valleyirrigation.com.